LOCAL & NEARBY
Mangkalba (Cedar Bay), Ngalba Bulal National Park
BANA YIRRIJI ART CENTRE GALLERY
Bana Yirriji Art Centre Gallery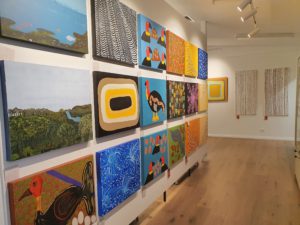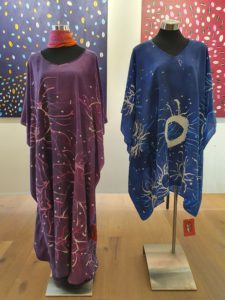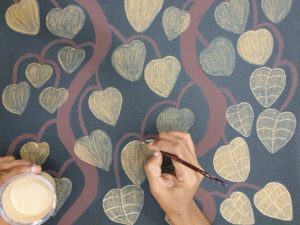 IMAGES
Bana Yirriji Art Centre Gallery
Sonya Creek painting Mili (Stinging tree) using locally source and prepared earth pigments.
© Bana Yirriji Art Centre. Photos Edwina Circuitt
FLIGHTS
From Cairns, Hinterland Aviation
CAR HIRE
Cooktown Car Hire (in partnership with Milkwood Lodge)
ACCOMMODATION
FOOD & STORES
Lion's Den
Historic pub 40mins from Wujal Wujal. Counter meals, licensed, camping available
FUEL
Wujal Wujal Service Station
1 Hartwig Street, Wujal Wujal, QLD 4895
P 07 4083 9119
* Card-operated petrol bowser for fuel supplies. Gas and ice are also available.
Mon-Thurs 7.30am – 4.30pm
Friday 7.30am – 11.30am
Closed Weekends & Public Holiday
Bloomfield Middle Shop
427 Rossville Bloomfield Rd, Bloomfield QLD 4895
P 07 4060 8220
* Fuel, takeaway and basic stores
Mon -Tues 7am-6pm
Wed – Thurs 7am-7pm
Weekends 7am-3pm
Public holidays – limited hours
CROCODILE SAFETY
ROAD CLOSURES
* Check for road closures, especially during the wet season.
Roads managed by Cook Shire Council – current status
Roads managed by Douglas Shire Council, including the Bloomfield track/Cape Tribulation Road – current status
Daintree River Ferry Crossing (travelling from Port Douglas to Wujal Wujal via the Bloomfield track/Cape Tribulation Road)
Please watch for wildlife & drive safely